The Fort Stockton Chamber of Commerce continues to work hard for you, our members, to help our community and economy recover from the effects of the COVID pandemic.
We'd like YOUR input: Let us know what activities and events that you would like to see occur.
News & Updates
The 2021 Comanche Springs Rodeo will be March 25-27.
Tickets will be announced in March and MUST be purchased/reserved in advance. (NO tickets will be sold at the door!)
Course Worker Volunteers
are needed for the
2021 Big Big Open Road Race
on April 24. Contact Arna at the Chamber to sign up!
(432) 336-2264
WELCOME to the newest BRONZE member of the Chamber of Commerce!
Pioneer Natural Resources
www.pxd.com
Join us Saturday, March 13
for the
Grand Opening Ribbon Cutting of
Glitzy's Brew
1101 W Dickinson Blvd
(Time not yet set)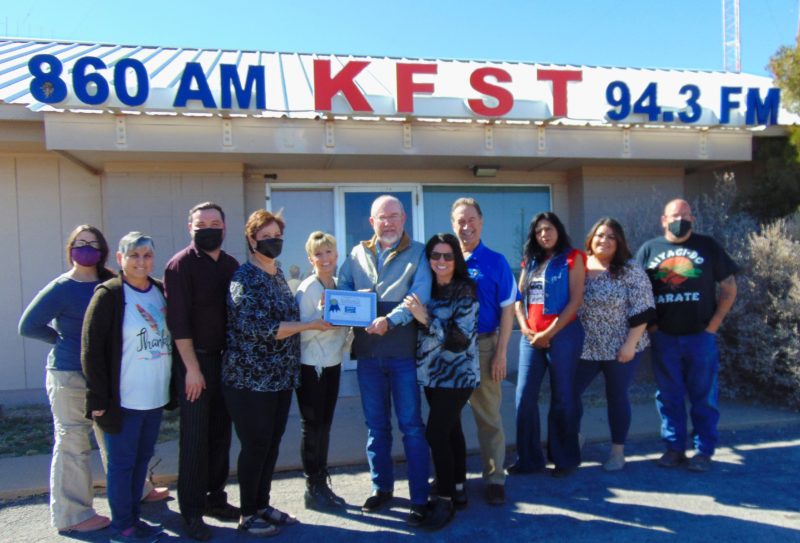 KFST was presented the February 2021 Business Spotlight on Monday, February 22, 2021, by representatives of the Fort Stockton Chamber of Commerce, Chamber Ambassadors, and Chamber Board of Directors.


KFST Radio has been a member of the Chamber of Commerce for over 30 years. KFST AM 860 was established in 1954 and operates in an adult contemporary format with a broadcast radius during the day of 100 miles and 30 miles at night. KFST FM 94.3 was established in 1974 in a contemporary country and Spanish formats with a broadcast radius at all times of 80 miles. KFST is proud to be affiliated with ABC News, Westwood One Music Networks and Texas State Network.


Members! Have news or announcements to share? Make sure to send them to membership@fortstockton.org
Please send any news, events, or other announcements by Wednesday of the week you want them to appear in the Friday newsletter.
March 19-20: Richard Reeves Memorial IBCA BBQ State Championship Cookoff Contact Jimmy Stephens for more information (432) 290-0124
March 25-27: Comanche Springs Rodeo comanchespringsrodeo.com
April 24: Big Bend Open Road Race www.bborr.com
Fort Stockton Independent School District
Upcoming Events
Panther Varsity Baseball: Comanche Classic
HS Tennis: Fort Stockton Tournament
MS Swim: Tri-Meet @ Pecos
Panther Varsity Baseball: Comanche Classic
10 am - MS Tennis @ Midland Christian Dual
4:30 pm - MS Tennis @ Big Lake Dual
6:30 pm - Panther Varsity Baseball vs. Denver City
MS Swim @ Pecos
Panther Varsity Baseball: Levelland Linedrive Classic
Panther Varsity Baseball: Levelland Linedrive Classic
HS Tennis @ Odessa Permian Tournament
Panther Varsity Baseball: Levelland Linedrive Classic
February 2021 Business Spotlight
The Fort Stockton Economic Development Corporation and the
Fort Stockton Chamber of Commerce remind you to KEEP IT LOCAL